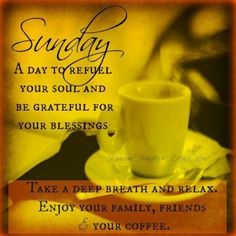 Starting in January I have been participating in what I call my "Sacred Sundays".  It's something that I have wanted to incorporate into my life for about a year or more and I FINALLY made the commitment to myself in 2015.  I have celebrated 3 so far……and I am loving it!!
So what is a Sacred Sunday you ask?  Well I'm very happy you want to know. A Sacred Sunday will mean different things to different people but I can tell you how I choose to honour it and myself.
For the entire day on Sunday I disconnect from the tech world; no cell phone, no texting, no emails, no phone calls. No checking Facebook 5 times a day and mindlessly scrolling down the NewsFeed. (guilty) If I decide to make plans with a friend, we have coordinated a time to meet and hang out before Sunday. You know, like the good 'ol days when we actually went out to visit people.
I've also just started going back to church.
I was raised United and church was something I felt my mom dragged us to while I was a teenager who would much rather be sleeping in on a Sunday.  But now that I'm much older, church has become a wonderful choice.  I started going to a Presbyterian church (which received a "hmmmmm" from my mom and a "well at least it's not Catholic" from my dad)  I am a spiritual person who believes that whatever you choose to believe in that brings you joy and comfort is the right choice. I think having a relationship with God, Spirit, Universal Love is a very personal thing and you should follow your heart.
So I start my Sacred Sunday by going to church where I've started to meet some regulars…..you know that sitting in ones pew is almost like marking your territory.  I enjoy this time of quiet contemplation and the minister is young and full of humour.
After church I may choose to go visit a friend, or go to a local cafe  in Collingwood and sip my decaf soy latte.  And I take a book with me I've been looking forward to reading.
I find I have so much more time when I don't have a cell phone going off with texts.  I absolutely love that I have friends I keep in touch with via text.  Getting a message from them always brightens my day but there is something to be said of the peace that comes from knowing I don't have to check or respond ALL day.  It's quite freeing! And it makes me all the more grateful Monday morning when I can send and receive texts to said friends and ask how their Sunday was.  Of course all my friends & family know that I disconnect on Sundays so no one worries that I've been injured in an accident or anything. 🙂
The very first Sunday it felt quite strange not having my phone…..and to be honest I still took it with me in my purse to church; not turned on of course! But you know, just in case…..maybe in a few months I'll be able to leave it at home alone.
I encourage you to invent your own Sacred Sunday. You don't have to go drastic, but I think you will find true value in spending time with yourself.  Stop and smell the roses as they say.  I believe this one day recharges my soul and gets me ready for the upcoming week.
Sunday has become my new favourite day.