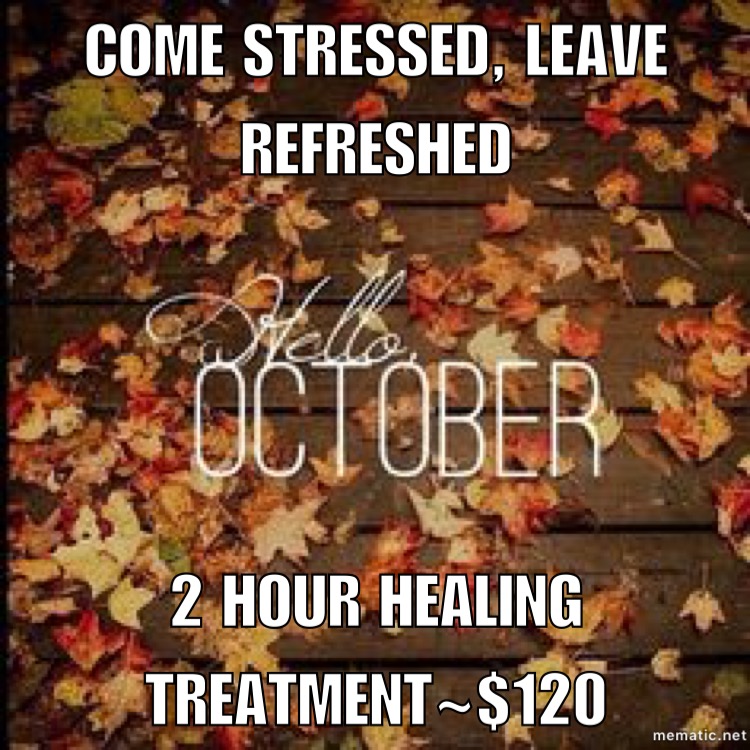 Choose ANY 2 healing treatments in October.

Are you dealing with too much stress right now? Feeling run down or anxious?  Then this is a perfect time for you!
We deal with so much in our lives today and it's just too easy to forget about our health and well being. My passion in life is helping clients like you deal with your stress and pain in a natural, non toxic way. Don't let the "silent killer" affect your body, mind and spirit.  It's essential to take proactive action!
So, for the entire month of October I am offering a special where you can choose any 2 treatments for $120 (value $160) plus all of the intrinsic inner healing that carries on….
Choose Reflexology and Reiki, or maybe Indian Head massage and Reflexology…..how about Myomassage and Reiki….the choices is all YOURS depending on what you need.
Don't know what you need the most?  I will help you with that!
Do you have a friend who wants a treatment on the same day?  Then I will come to YOUR place and save you a drive.
October is filling up already so book your space early!
Looking forward to helping you DE-STRESS, DE-TOXIFY and RELAX.