Crystal Energy Baths are  fantastic Self-Care rituals that we absolutely need.  By introducing certain crystals and their unique healing properties along with specific essential oils,  we can absorb the energy easily in water and help to keep our Chakras balanced and our body/mind/soul cleansed and rejuvenated.
---
Self Love and Care Kit  
When you need some help healing your heart chakra, feeling lost or experiencing a break up, this kit is designed to help clear away the blockages.  Using the compassionate healing energy of Rose Quartz crystals, and the essential oils of lavender, geranium and rose, help yourself remember the loving and worthy being you are and always will be.
In the kit, you receive 2 rose quartz crystals, 2 bath fizzies, candle and instructions on how to do your Self Care Ritual.
You deserve it!!  Time to take care of the most important person…..YOU.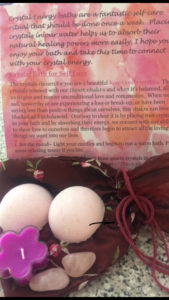 $25